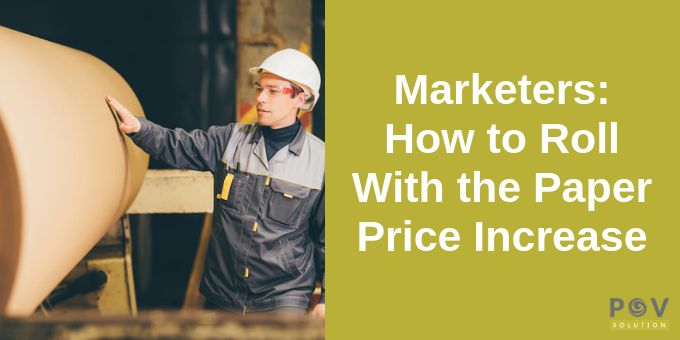 After almost three decades of stagnation, the price of paper has finally started to rise in 2018, and it's taking a toll on marketers.
The price increases are driven by major paper shortages, meaning marketers now need to get creative with their marketing budgets and their choice of paper.
Why are Paper Prices Increasing in 2018?
The rise of digital marketing and media has fundamentally changed the paper industry. While paper and cardboard consumption rose steadily for most of the past decade and is predicted to continue to rise worldwide, a decrease in print marketing has led many paper mills to shut down.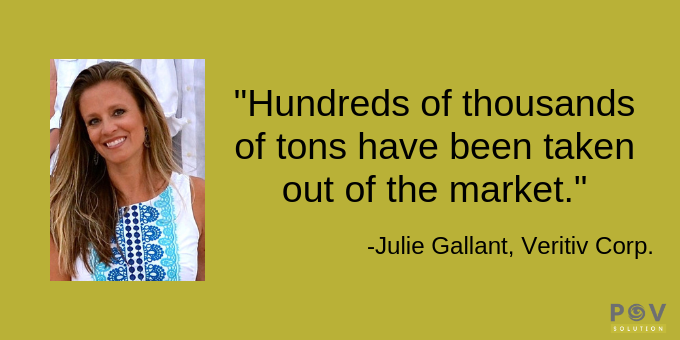 "Hundreds of thousands of tons have been taken out of the market," says Julie Gallant, a print sales professional with Veritiv Corp. "Mills have shut down, or instead of producing fine paper, they're producing packaging."
Veritiv says the rise of online shopping is driving the switch from paper to boxes.
The remaining mills in the market are struggling to keep up with the demand for paper, meaning many specialty papers are hard to find.
"Right now I'm talking to mills who are out three-and-a-half months," Gallant says. "That's something I've never seen."
Facing declining sales, the paper industry has also been unable to raise prices for the last three decades. This year, with demand finally outpacing supply, paper mills have begun to raise their prices to catch up with the increase in costs over the last 30 years.
So far in 2018, there have been four major price increases, and more are predicted, Gallant says.
These prices are trickling down to consumers, leading marketers to raise their budgets for print collateral, or to consider other options for cutting costs. But the bigger impact marketers will notice will come from the paper shortages themselves.
How the Paper Price Increase Could Impact You if You Print In-House:
If you do your own in-house printing for marketing collateral, there are a few ways you might be impacted by these trends.
Order in advance
If you plan to use a specialty paper, which is anything other than a white commodity sheet, you will need to plan ahead and be flexible.
You might need to give your paper supply representative a wishlist of paper choices three or more months in advance of the date you want to print your materials, and you might need to accept an alternative to your first choice.
Look at your budget
The price increases mean that paper will take up more of your marketing budget than it has in the past. You might need to raise your overall budget, print fewer pieces, or find an alternative paper type or printing method to accomplish your goals.
Be prepared to wait
If you're unable to adapt to whatever stock of paper is available at the time of your campaign, you will likely need to wait until that paper is available. These wait times can run longer than three months, Gallant says.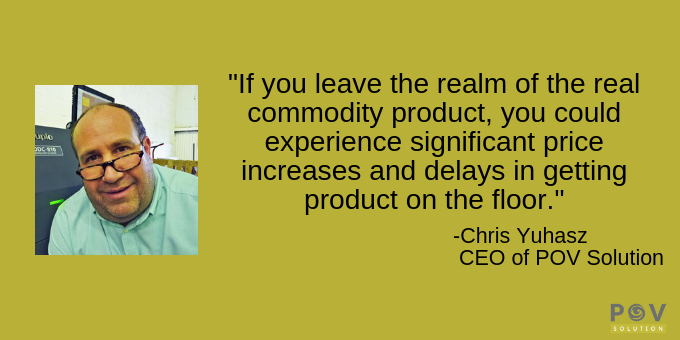 "If you leave the realm of the real commodity product, you could experience significant price increases and delays in getting product on the floor," says Chris Yuhasz, president of POV Solution.
How the Paper Price Increase Could Impact You if You Work With a Commercial Printer:
If you are a small or medium business and you rely on a commercial printer for your marketing collateral, you will need to keep these tips in mind.
Order minimums
Chris Yuhasz says that paper mills are no longer keeping specialty papers in their inventory. To justify the time it takes to set up their equipment to manufacture a specialty paper, they want to sell a large quantity of it, so they are raising order minimums.
This in turn affects the minimum order size that a commercial printer like POV Solution can offer, because it's unlikely that two customers would need the same color, weight, and style of a particular specialty paper.
"If I needed 200 sheets to fill my order, I now need to buy 500 because the mill won't fill my order for any less than that," Yuhasz says. "I can't inventory products that we don't run everyday."
Wait times
The delivery speed of items printed on specialty papers may be longer if you are not flexible about your paper choice.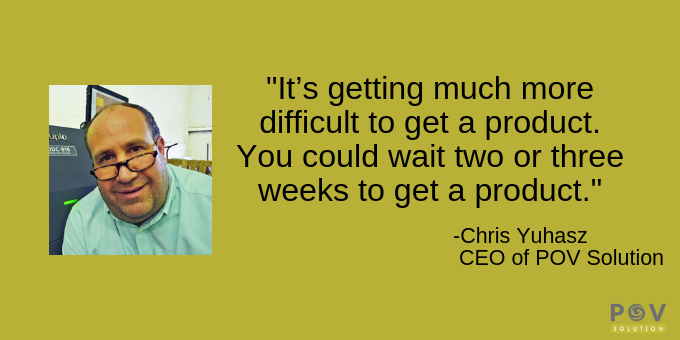 "Once you leave the basic realm, it's getting much more difficult to get a product. You could wait two or three weeks to get a product," Yuhasz says.
Prices
Yuhasz says prices are up about 13 percent in 2018 on commodity sheets, and more price hikes are expected. Another factor impacting prices is international trade relations, since a lot of the paper in the U.S. is imported from mills in Canada and China.
"We know our customers sometimes think the printer is the villain for raising prices and order minimums, but everyone is starting to experience this," he says. "We're fighting like dogs to protect our customers and make their business process seamless."
Tips to Keep Your Print Marketing Campaign in Budget and On Time Amid Paper Shortages and Price Increases
With the challenges the paper industry is facing, marketers need to plan ahead and be proactive when planning marketing campaigns. But there are also some new printing technologies that can help printers deal with shortages in their favorite high-end papers without giving up the luxury feel they're looking for.
These new technologies can be cheaper, create more compelling effects, and are less susceptible to shortages because they work with commodity paper.
Spot UV and UV coating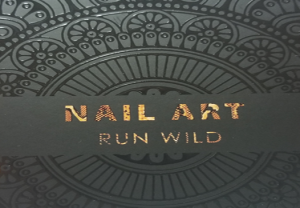 Spot UV is a new printing technology that can create raised textures on basic paper. A spot UV layer creates the texture only in designated parts of the design (like the lettering, or a logo, or in dots), while a UV coating gives the entire sheet a specific texture.
These textures make printed materials enticing to touch, and research shows that when customers touch and feel your printed materials, they remember them better and experience a more emotional connection to your message.
Soft touch paper
Some companies in the printing industry are experimenting with new kinds of paper. One example is Masterpiece Graphix, which has developed a new soft touch paper that could provide an alternative to laminated products or other luxury paper styles.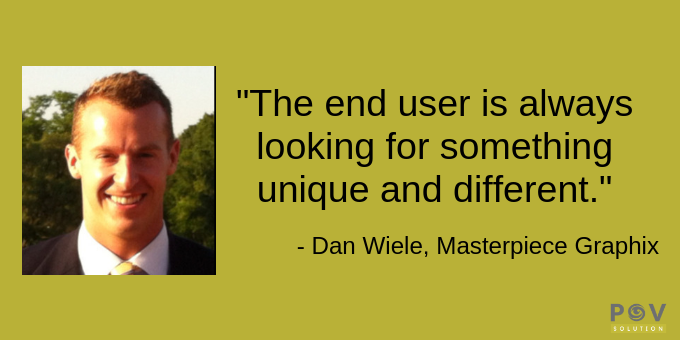 "The end user is always looking for something unique and different," says Dan Wiele, digital material specialist for Masterpiece Graphix. "Soft touch adds a tactile feel to the printed piece."
Wiele says customers typically want to create a soft touch effect for high-end luxury products, so they'll use it for menus, packaging, business cards, invitations — all sorts of collateral.
Traditionally the only way to get a soft-touch feel is to put a coating on after printing or to laminate. The soft touch paper is a way to eliminate that extra step, since the heat of the printing process activates the coating, giving it a uniform soft-touch feel.
That's especially useful for small orders of 500 business cards or 100 invitations, where it would be a pain to set up a laminator for only a few sheets of paper.
Look Before You Leap With Recycled Paper
When you first hear about the paper shortages and price increases, you might think that using recycled paper would help avoid some of the industry's challenges. But recycled paper also has to be processed by pulp and paper mills, and it is subject to the same shortages of other kinds of paper.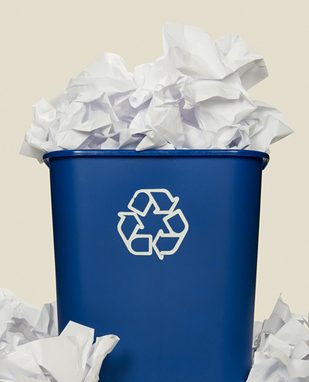 Additionally, the public understanding of how paper products impact the environment has often been based on false information.
Sometimes paper companies have jumped onto the "go green" trend as a marketing gimmick, without actually making an effort to examine the environmental impact of their product across its entire life cycle.
Using recycled paper is not always the greenest option
It's trendy to use recycled paper, because we all want to lower the environmental impact of the products we produce, but this means some products are marketed as "green" when they're not actually any better than paper made from wood pulp.
Paper should always be recycled, because it's a natural resource that can be reused. But recycling printed paper back into white paper is not always the most environmentally friendly option, says Phil Riebel, president of Two Sides North America, Inc.
To turn a printed sheet back into white paper, you must first de-ink it. This process is expensive, and it creates a waste sludge that must be disposed by either putting it in a landfill or burning it for energy. But burning it safely requires special equipment including modern boilers and emissions treatment technologies.
However, it's very efficient to create cardboard out of recycled paper because you don't have to de-ink it or process it as much.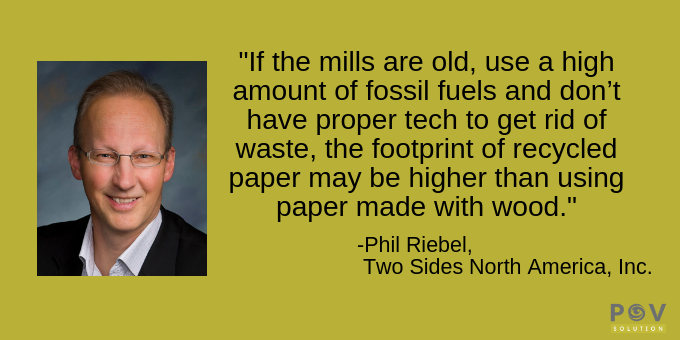 "In some cases, if the mills are modern, recycling works well and the environmental footprint is low," Riebel says. "But in other cases, if the mills are old, use a high amount of fossil fuels and don't have proper tech to get rid of waste, the footprint of recycled paper may be higher than using paper made with wood."
Look at the entire carbon footprint of the paper
The key to choosing the right paper to effectively lower your impact on the environment is to look at a sheet of paper over its entire life cycle. What renewable and nonrenewable resources were used to grow the wood pulp, harvest it, mill it, and/or recycle it?
There are several labels and certifications that can help with this. Here are a few to keep an eye out for:
Program for the Endorsement of Forest Certification (PEFC)

The Sustainable Forestry Initiative (SFI)

The Forest Stewardship Council (FSC)
There are also some paper scorecards that are used to measure many elements of the paper life cycle and can be used to assess the environmental footprint. These are:
Environmental Paper Assessment Tool (EPAT)

Paper Profile
WWF Paper Scorecard
If you can't find this information about the product you're ordering, ask your suppliers to send you their environmental credentials.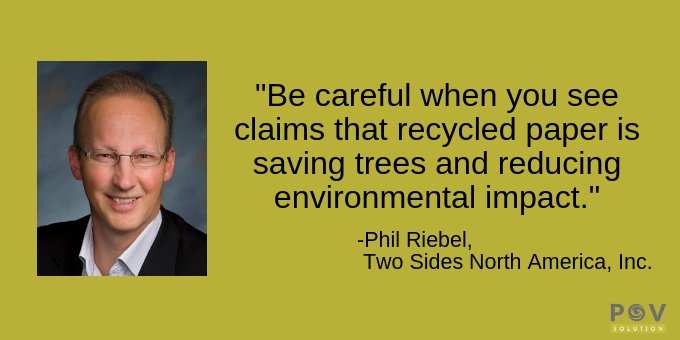 "I would be careful when you see claims that recycled paper is saving trees and reducing environmental impact," Riebel says. "Make sure those claims are backed up."
Choose a Commercial Printer You Can Trust to Pick the Best Paper for Your Next Project
The paper industry is more complex than it seems. With the current trends of rising prices, paper shortages, and greenwashing of recycled products, choosing the right paper for your marketing campaign, or event invitation, or business cards can be overwhelming.
We'd love to meet with you to share our advice and insight into the latest trends in paper to select the right materials for your next project.