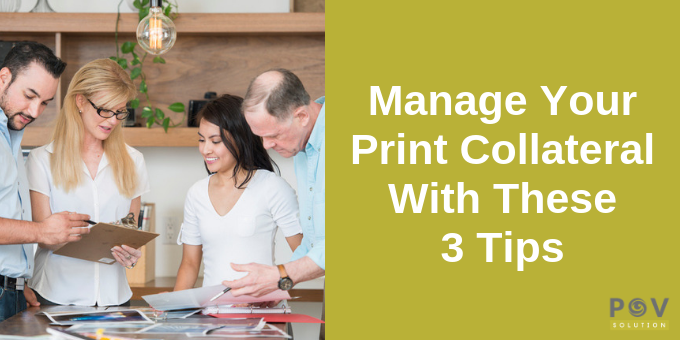 This summer, Facebook did something that shocked marketing bloggers and publications around the world. The king of digital content platforms made a major investment into print marketing collateral when it launched a quarterly business magazine called Grow.
Print isn't dead. Facebook doesn't think so, and neither do we at POV Solution.
Investing in print marketing collateral in 2018 is about building trust, authority and credibility by getting away from the hectic and crowded digital space, says Terri White, editor-in-chief of Empire magazine, in an interview with The Drum magazine.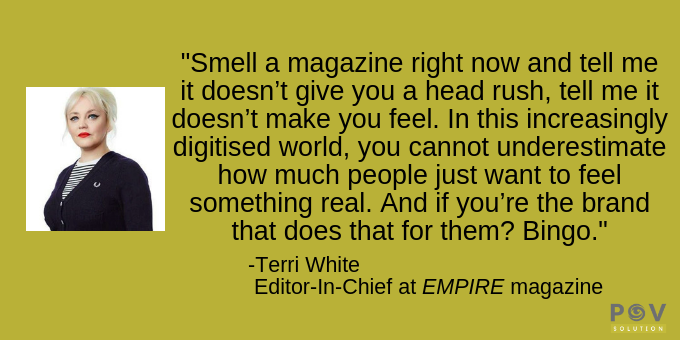 You can give your customers that intimate connection by investing in print collateral.
What is Print Collateral?
Print marketing collateral includes any physical materials that your marketing department uses to promote your brand, like apparel items or pens printed with your logo, or printed advertisements and publications, flyers, postcards, rack cards and pocket folders.
Getting printed collateral produced accurately, on time and within budget should be simple. But if you've worked in marketing for long enough, you know that managing print collateral can sometimes turn into a hassle. Some typical issues:
Your business card order takes hours because of email delays in the submission and proof approval process.

You wait weeks to pack a product because the labels and instruction manuals are late.

Your marketing campaign fails because the collateral you produced doesn't align with your strategy.
After 27 years in business, we have seen it all. We always look for ways to help our customers avoid these headaches. We've prepared a few tips that can help cut out some of these hassles.
1. Don't Make Assumptions About the Printing Process
We've seen many customers run into problems in the process of ordering new print marketing collateral because they wait until the last minute to involve the printer.
They may put too much trust into their graphic designer, or make decisions based on assumptions about the printing process.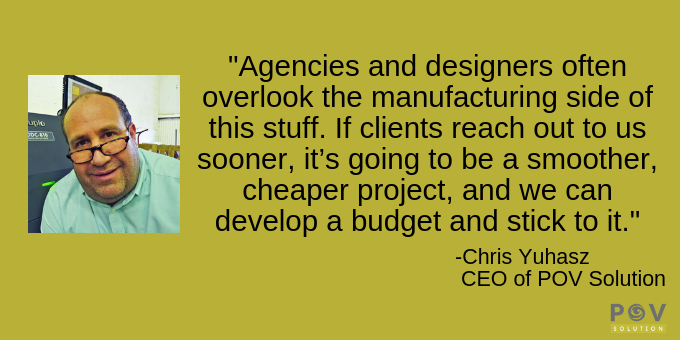 We've had clients come to us with a design for an event invitation, and we've had to tell them the dimensions of the design don't match standard envelope sizes. So they either need to go back to the designer and make the changes, or their print collateral budget will fly out the window.
Some questions you'll want to work with your printer to answer might involve:
Where will the print collateral be used?

Is it going to be displayed outdoors?

How many will you order each year?
"Once we know the answer to questions like these, we can advise you on the most cost effective way to manage your print collateral," Yuhasz says.
2. Integrate Automation Into the Process
Automation is making life much easier for printers and their clients. The latest trend in commercial printing is web-to-print.
Many people think of large-scale online printers when they hear web-to-print, but the technology has powerful applications for small, local printers.
Marketing departments are moving to web-to-print solutions to improve efficiency. For example, when we started rolling out a web-to-print interface, we saw our clients' time spent on getting quotes, updating designs and approving proofs drop from up to an hour over several days down to 5 minutes.
With a custom portal, a client has their own online store tailored to needs, with complete brand, budget and approval control, says Steve Ciesemier, direct sales manager for Aleyant.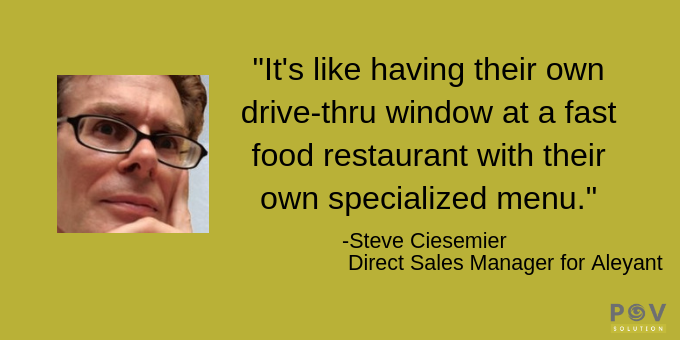 Once this portal is set up, a client can login and input the data for the next order of collateral, (e.g. business cards for a new sales rep) into a template built with their brand standards.
Then they can view an instant proof, approve it, and immediately submit to the printer.
"We're giving them a library online for the parts they're managing and buying," Yuhasz says. "It removes all the uncertainty in the proofing process."
Cut out the back-and-forth emailing
Web-to-print is especially good for organizations that:
Manage complex inventory of print collateral and complementary items

Make frequent orders of the same types of print collateral

Have many different locations or departments
Aleyant found that production costs decrease by 75 percent when printers set up web-to-print portals for their clients, and they are able to pass those savings onto their clients.
For organizations that frequently order the same types of print collateral, this time-saving and cost-saving technology can make a huge difference in their daily routine.
"It's very nice to have a system that can facilitate having different groups in a large organization to bill to the same account, but still have an individualized buying experience," Ciesemier says.
CASE STUDY:
We had a client who managed 30 different rack cards, and she wanted to be able to order them in quantities of 500, 750, or 1,000.


"We built a pricing engine for her, and it's now online in our web-to-print system," says Yuhasz. "It took me 10 minutes, but it will save us both hours."
3. Coordinate Print and Digital Collateral Efforts to Drive More Customers
The most expensive marketing plan is the one that doesn't work. Whether you invest in a website, printed flyers, or a high-end TV commercial, if you don't understand the fundamentals of modern marketing, you're going to waste your money.
Look at Facebook's new magazine as a prime example. And consider what Adam Wagner, Chief Strategy Officer and Partner at Raindrop had to say: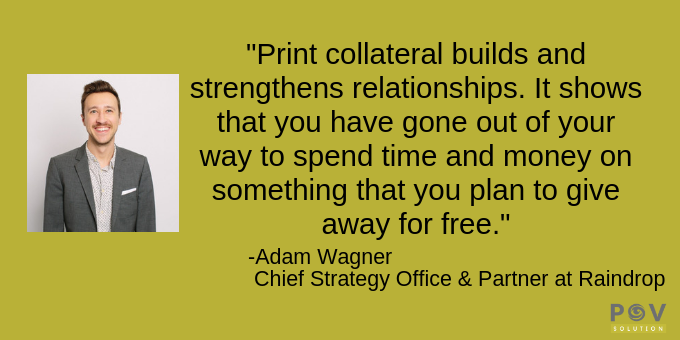 Your print marketing collateral needs to point to your digital collateral so that you can track its success. This means including links to your website, or to special landing pages, or including unique coupon codes.
These techniques have been proven to be effective over and over. A 2016 study by InfoTrends found that 66% of direct mail is opened, and 56% of consumers who responded to direct mail went online or visited the physical store.
Keep the End Goal in Mind
With every piece of print marketing collateral that you create, you need to keep the end goal in mind.  
Your marketing campaigns need to open doors for your company. They need to catch the attention of your target audience and allow you to start conversations with decisions makers. That first impression will often make the difference between your print collateral landing on the right person's desk or going straight into the trash.
"Spend the money to make sure the piece gets in front of the right person," Yuhasz says. "Then once they've gotten interested, let's save money in other ways."
We're happy to help prospective customers figure out a plan for managing their print collateral and maximizing the impact of their marketing campaigns. Contact us any time!