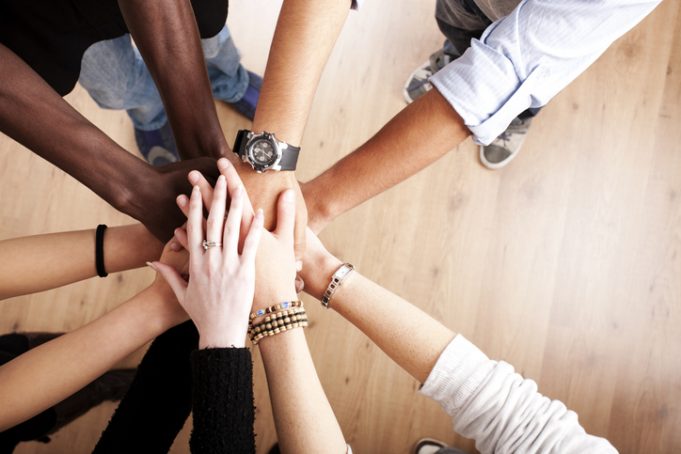 What happens when one of the finest art schools in the country teams up with a forward-thinking local printer? As we're learning here at POV Solution, the short answer is a lot.
Jeff Harter from the Cleveland Institute of Art (CIA) reached out to POV Solution with the idea of working together.
Harter, who's an associate professor and chair of the Illustration Department at CIA, was part of a printer partnership in the past while a student at the State University of New York at Buffalo.
The experience gave him and his fellow illustration students a unique opportunity for client collaboration and a way to better understand the world of printing. He wanted to see if he could do something similar at CIA.
---
The Cleveland Institute of Art has relationships with more than 600 organizations nationwide that provide professional work experience to students through internships, class-based projects and individual project-based partnerships.
This partnership with POV was a class project aimed at benefiting both parties, with a special focus on student development.
---
"I looked into POV Solution and thought this could be a great opportunity for both of us," he says.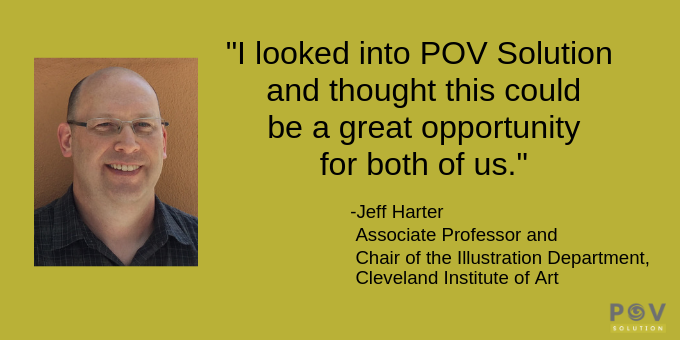 Chris Yuhasz, president of POV Solution, says, "We jumped at the chance."
The opportunity to partner on a project with CIA fit with POV Solution's efforts to engage local entities, promote who we are, and further our community involvement, Yuhasz says.
Now a couple months into the project, he says, "We're also getting a jolt of creative juice from talented young artists. And what's really cool is that in the process, we're exposing the next generation to high-end print technology."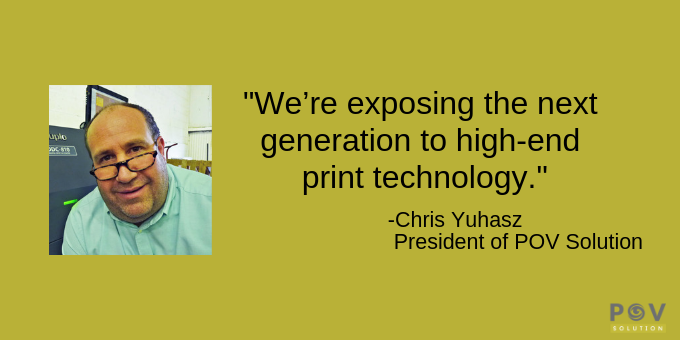 A Crash Course in Spot UV Technology
So where has the partnership focused its efforts? Yuhasz says the cutting-edge technology of spot UV printing seemed like a great place to start.
POV Solution recently made a big investment in finishing and embellishing with the addition of spot UV machines. The technology allows for rich designs and textures on printed material.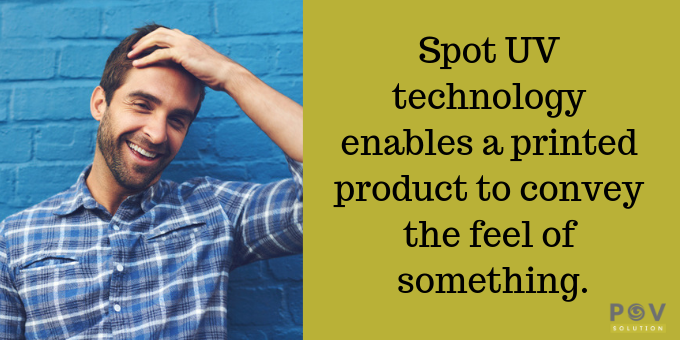 More specifically, it enables a printed product to convey the feel of something. And that means it can augment the visual component by creating a memorable tactile experience.
Here are just a few examples of what spot UV technology can do on a printed item, though the possibilities are virtually limitless:
Convey the wood grain effects of a house or furniture piece

Create the texture of treadmarks left behind from a vehicle

Add the feeling of sand and pebbles to a stunning seaside image
"With this kind of feature, a customer's print collateral can really stand out and reach an audience more effectively," says Yuhasz.
No, this isn't the first texture-driven technology in printing. But what makes our spot UV option particularly exciting is that it's affordable, digital, and specifically designed for shorter runs, explains Yuhasz.
It opens up a whole new level of customer options for unique and compelling product features.
And that's why marketing campaigns to highlight spot UV capabilities are so important to POV Solution.
Enter the CIA art students from Harter's upper-level "Community Projects" course.
Students Gain Client Collaboration Experience and Much More
Harter says a lot of budding designers and illustrators "think they're eventually going to sit in their little silo and create masterpieces."
The reality is that they're almost always going to be working as part of a team, regardless of the setting, explains Harter.
That's why he loves getting his students working with outside clients.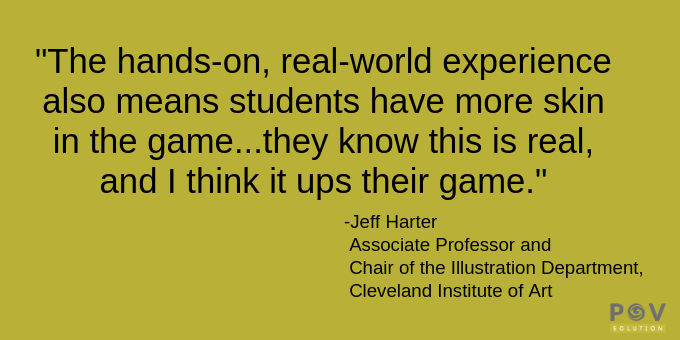 On top of that, art students typically work on assignments that simulate client scenarios. But projects like this one, says Harter, let students collaborate and solve actual client problems.  
"The hands-on, real-world experience also means students have more skin in the game," says Harter. "It's a good pressure to have on them. They know this is real, and I think it ups their game."
Students from Harter's Community Projects course have worked in the past with such clients as the Cleveland Orchestra, American Greetings, and Recycled Paper Greetings.
"We try to reach out and establish connections within the region. It's good for CIA and also good for the students. Those connections may become relevant for their future as professionals," says Harter.
But he adds that the collaboration with POV Solution is special for a number of reasons.
Students Learn the Printing Process Up Close and Personal
The CIA-POV Solution partnership began with a kick-off meeting at our facilities, which included about a dozen students.
POV Solution shared our marketing and sales strategy, described prior spot UV marketing campaigns, and explained what we wanted in our next campaign package.
"We then set them free to design a vehicle—a physical box, actually—that we can use to put all the marketing pieces together," says Yuhasz.
The process has also involved students getting a firsthand understanding of spot UV technology and equipment, in addition to learning how to set up a file to meet POV Solution's specific print specifications.
According to Harter, students usually focus on illustration and visual storytelling. But incorporating spot UV into their work is challenging them to showcase the tactile dimension.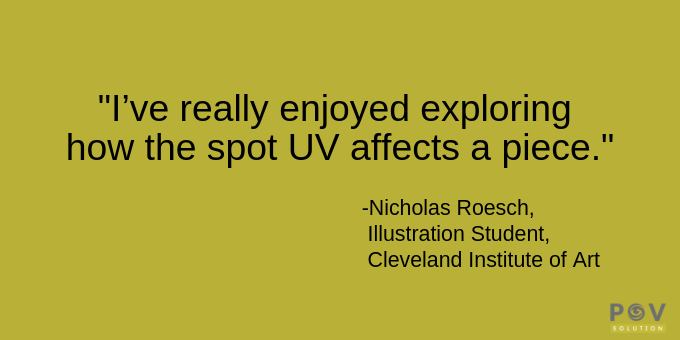 "It's a great creative exercise. It's a completely different way of thinking about design and illustration for them," he says.
Students have developed illustrations, pitched their ideas to POV Solution, and are now finalizing a prototype for actual print production.
Harter's own professional experience includes working as an artist on Disney animated films like Mulan, Tarzan, and Hercules. But his background also includes illustrating for greetings cards, newspapers, and children's publications.
In fact, Harter is a big believer in the power of print. A sentiment he doesn't want lost on his students.
Although the students have grown up in a digital world, Harter says he tries to remind them that printed material is still important—and that it's still a great medium to work with.
"Collaborating with POV Solution gives them a chance to experience this," he says.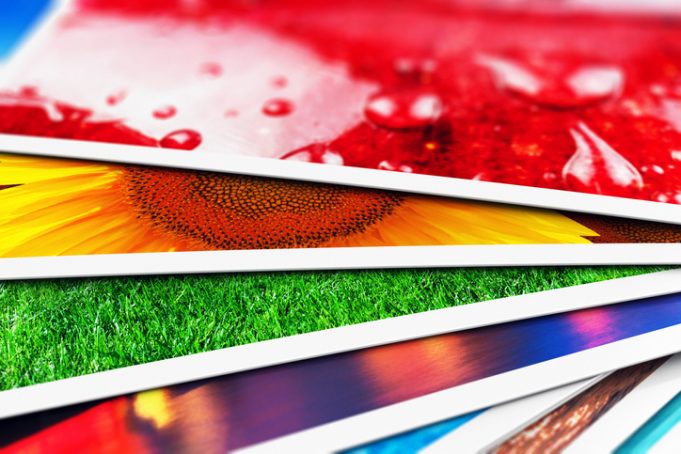 POV Solution Benefits From Art Students' Creative Insights
It's an age-old challenge: How can you look at a creative task from a fresh perspective?
When it comes to the CIA-POV Solution partnership, Harter says these students are bringing the very definition of a fresh perspective.
"Sure, they might be green, but they're working under faculty direction to help them develop a final product that's at a professional level of quality," says Harter.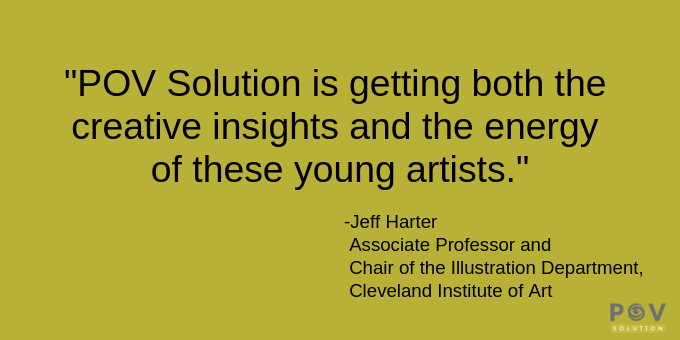 "Ultimately, POV Solution is getting both the creative insights and the energy of these young artists."
Echoing Harter's point, Yuhasz says, "The prototypes alone have already blown me away. Our internal team can only do so much in a day. These students are bringing a whole new level of creativity."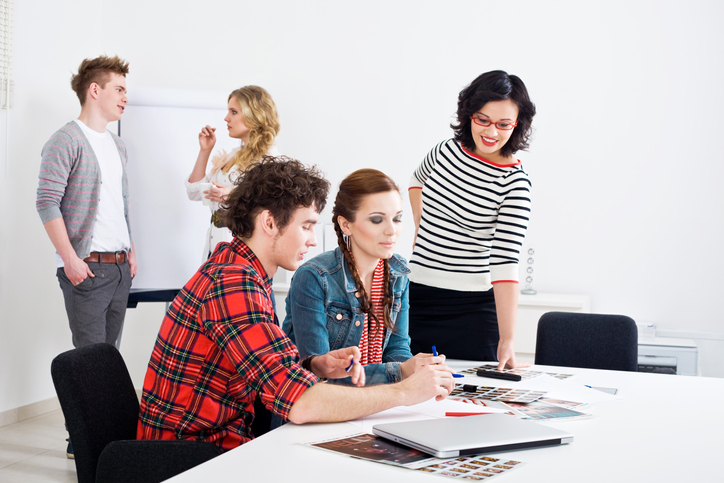 Making the Future of Printing as Bright as Possible
Getting a younger generation interested in the printing industry is just one among many roles that the Printing Industries of Ohio · N. Kentucky carries out. But as the organization's president, Jim Cunningham, makes clear, it's definitely a crucial one.
"All of us have a concern that we need more young people involved in the printing industry," he says.
One way the organization addresses that concern is through its scholarship programs, which every year help distribute tens of thousands of dollars to graphic communications students.
Cunningham says the demographics of the industry are trending older. "We're working on trying to change that. That's why something like the CIA-POV Solution partnership is so advantageous."
Cunningham applauds the joint effort because for him it demonstrates a creative way to get young people interested in what he calls "the real story" of print.
"Print technology is constantly changing as it brings more and more benefits to users," says Cunningham.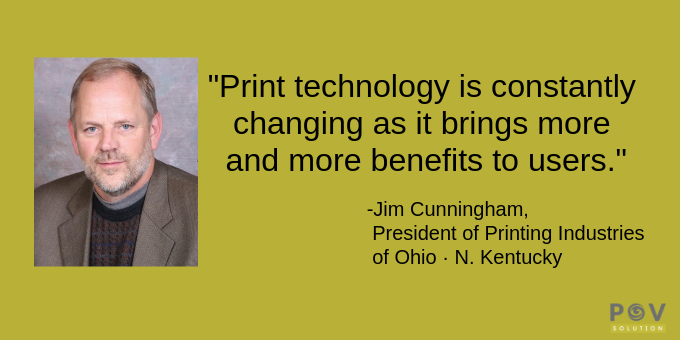 Getting students into a print shop and giving them a front-to-end experience, one where they can actually see the final product, can be great for generating their interest in the print industry, says Cunningham.
Just One More Way for a Small Printer to Make an Impact
POV Solution's Yuhasz says he's looking forward to future CIA projects, adding that it's the kind of effort small printers around the country should be looking into.
POV Solution's experience with CIA has made it clear to Yuhasz that when it comes to giving back to the community, those in the printing industry should really push the boundaries of what it means to do that.
"What I like about the partnership we have with CIA is that there are so many winners," he says.
And here's what he means.
POV Solution is building a strong relationship with a prestigious art school while benefiting from the insights of their talented students.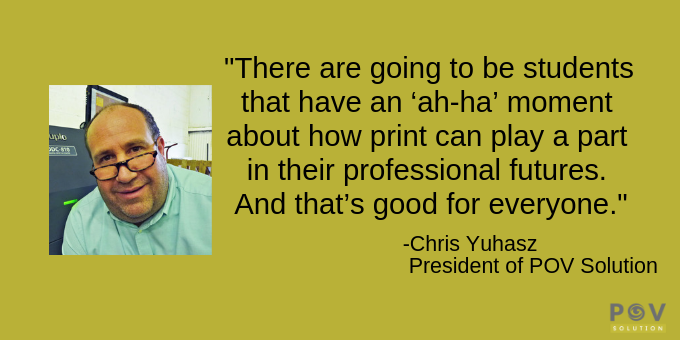 In turn, POV Solution is giving those students an authentic, collaborative experience where they learn more about print and the printing process.
"There are going to be students that have an 'ah-ha' moment about how print can play a part in their professional futures. And that's good for everyone," says Yuhasz.