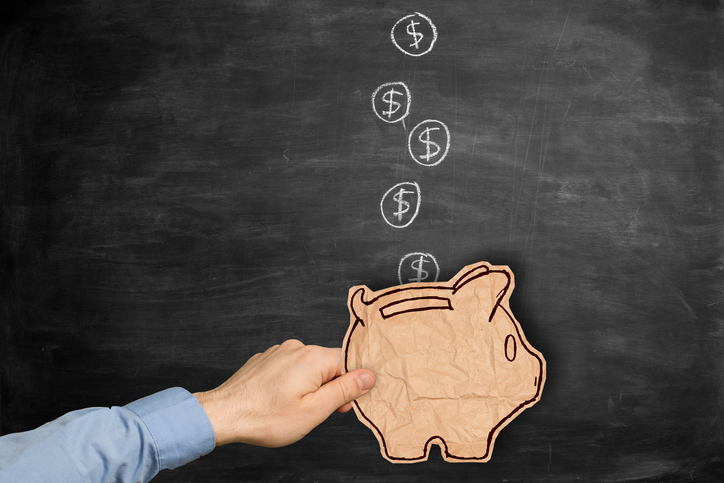 How can you reduce your printing costs? If you're a nonprofit, this is an especially important question because you're under greater pressure to do more with less.
Sure, having fewer items printed and using less expensive materials can help, and we'll get to cost-reducing strategies like those below.
But if you really want to make a significant dent in bringing down your year-over-year printing expenditures, there's one way that leaves all others in the dust.
And it may be so obvious that you're not even thinking of it.

Be Organized
The single most significant way to reduce your printing costs is to be better organized.
When you're not, says Chris Yuhasz, president of POV Solution, "you're going to get behind schedule, and that's when a whole series of added costs can start to creep in. "
Note that this seemingly simple advice is coming from a printing company that's been in business for almost thirty years. Our staff includes people with decades of printing experience.
That means we've worked with all kinds of nonprofits on just about every kind of print project imaginable. And we've seen it time and time again: When a project goes into a frantic phase, cost concerns get trumped by desperation.
But it doesn't have to be that way. Here are some simple solutions: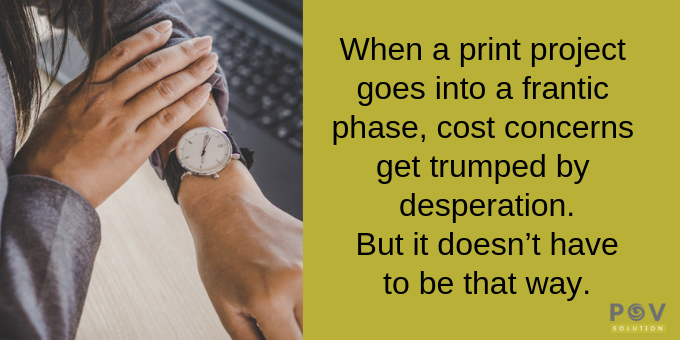 1. Develop an editorial calendar
When you're organized, you plan for your print project months in advance. How do you that? By developing—and adhering to—an editorial calendar.
Easier said than done? Of course!
But the effort is worth it. An editorial calendar can be transformative, not just for your budget but also for the everyday duties of your staff. Knowing exactly what's coming up keeps people more focused and less stressed.
(By the way, there are a ton of great tips and tools on the web for this.)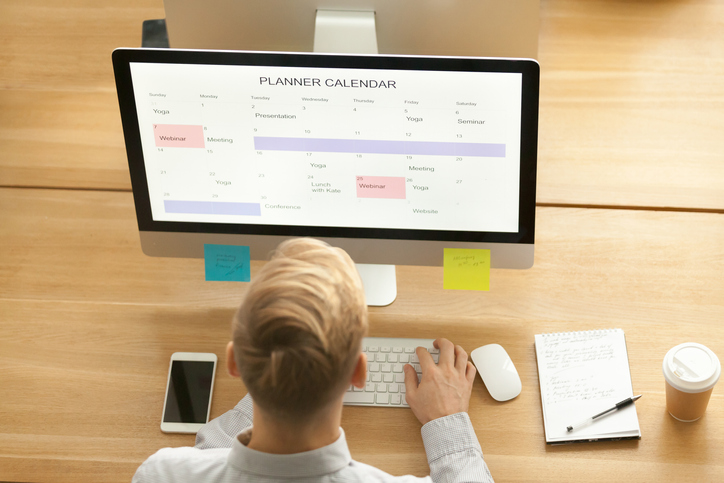 2. Think about your calendar strategies
Your calendar should include obvious information—what the item is, who will be working on it, who will need to review it, and, perhaps most important, when you want it to show up at people's homes. 
In fact, Yuhasz suggests starting with the end point. "Once you agree on the date you want your printed piece to arrive, start working backwards from that."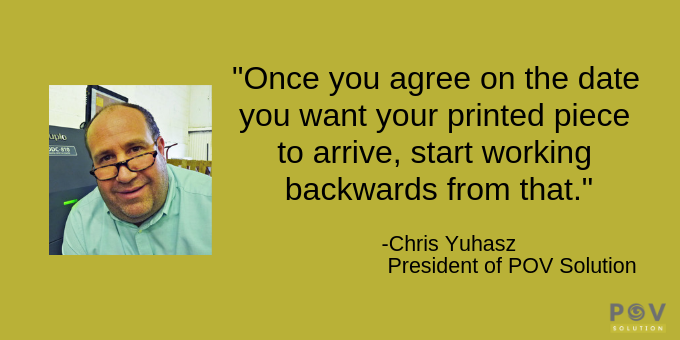 Then, as early as possible in the process, contact your printer and make sure your goals are doable from their perspective, adds Yuhasz.
To be thorough, consider designating milestones so that your timeline has built-in dates that prompt you to check in on the project's status.
And if you see delays, let your printer know ASAP.
"If things are going off track, tell your printer right away. The more heads-up they have, the more able they'll be to mitigate schedule problems—and keep extra costs to a minimum," says Yuhasz.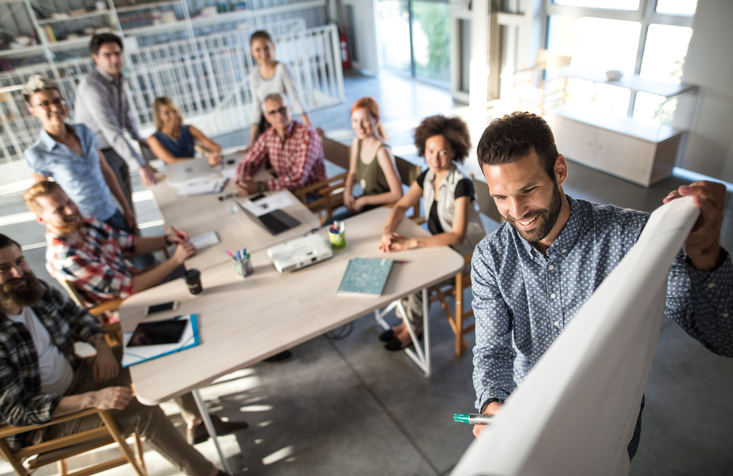 3. Establish realistic objectives
Make your print timelines as accurate as possible by getting real.
"Your calendar should reflect the world you actually work in, not the world you'd like to work in," says Yuhasz. "That's the only way you're going to develop an accurate schedule."
In other words, you have to answer questions like the following:
How long will it take to actually develop the designed piece—from initial planning discussions all the way to final design?

How much time do we need for the writing and design components?

Who needs to review this for final approval? More specifically, where (and who) are the possible hang-ups in the process?
"Are there people in your workflow who seem to always need more time to review a piece? You have to build considerations like that into your calendar," Yuhasz says.
Along with those factors, make sure you can rely on a designer that understands the importance of meeting your printer's deadlines, says Yuhasz.
It may seem like an obvious point, but Yuhasz says it's crucial that your designer knows how to set up print files to professional standards and is completely familiar with the entire lifecycle of a print project.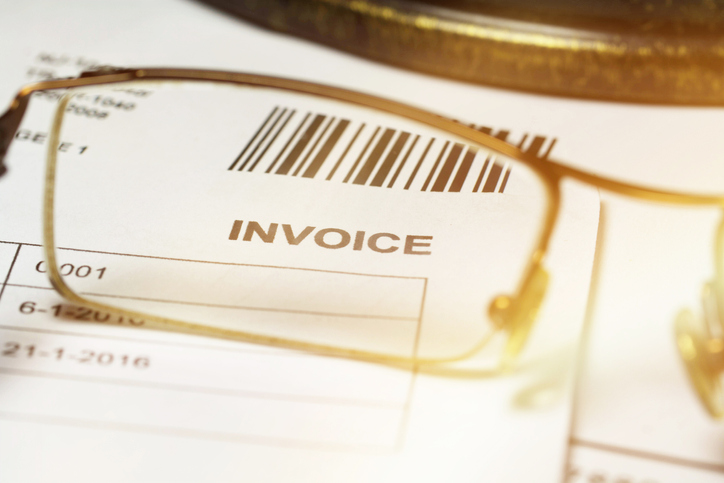 Understand Why Costs Go Up
Need some inspiration to get more organized about your upcoming print projects?
When you survey the budget aftermath of a project forced into warp speed, you can start to see just how expensive delays and disorganization can be.
Your printer wants you to succeed. So when problems emerge on your end, they're likely going to do what they can to keep your project on track.
Unfortunately, as they maneuver to meet your expectations—and juggle a printing schedule for multiple clients—that can mean your print costs start going up. Here are a few examples of why.
1. Getting product on the floor
Printers typically try to have ample inventory on hand. But high-volume print runs or items that need specialty paper will likely require special ordering.
So what can happen when the original print schedule has been knocked out of whack?
Materials required for your project may not immediately be on hand. But when they suddenly need to be, that can mean expedited shipping and added costs, assuming your printer can even get what you need within a day or two.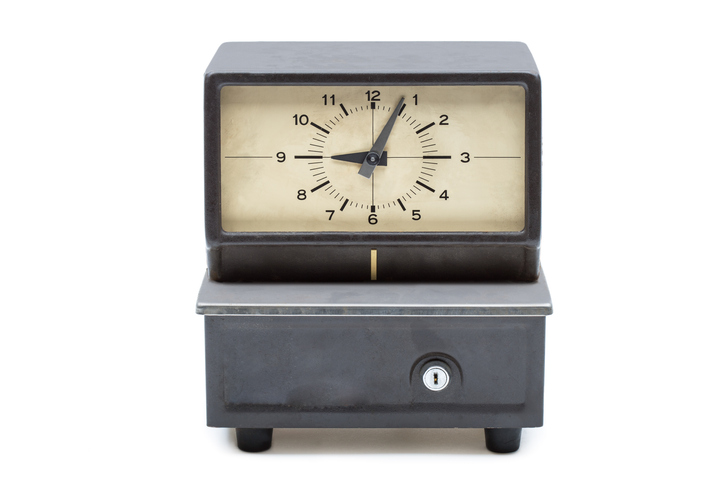 2. Overtime
Customers never like to hear "overtime."  And, frankly, printing staff usually aren't thrilled with the prospect either.
Your printer tries to function at full capacity. That means they have a carefully planned print schedule to run as efficiently as possible as they meet the print deadlines of their customers.
But if your project gets to the printer later than originally planned, that could require them to adjust by having staff work a 12-hour day or perform a Saturday print run.
Unfortunately, that will likely mean added costs.


3. Errors and omissions
Errors "skyrocket" when projects get rushed, says Yuhasz.
It's not hard to understand why. When a project is running behind, your proofing can take a backseat to the frantic mantra of Just get it done!
But what happens when mistakes—wrong dates, misspelled donor names, and a hundred other possibilities—are discovered in the 11th hour?
Just get it done! now turns into That's gotta be fixed!  
That means the file goes back to the designer. It means yet another set of proofs for review. Is everyone around to immediately jump on the review again?
And what if you need hard copy proofs? Overnighting items or using a courier service is going to add even more costs.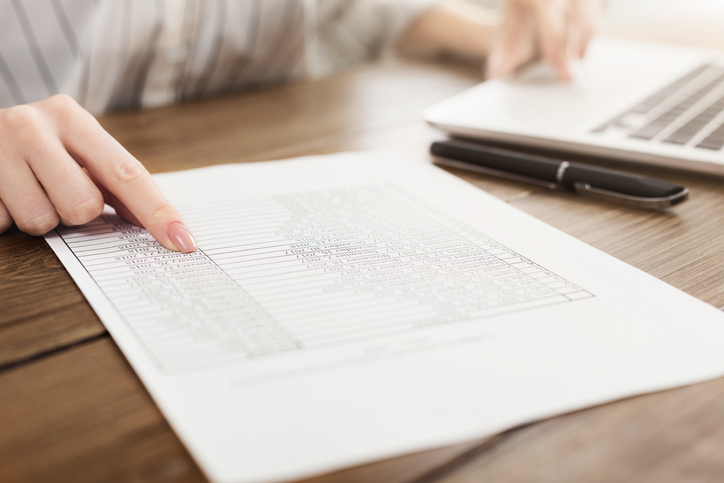 4. Mailing list woes
Challenges with mailing lists usually take one of two forms. Items are ready to be shipped, but your printer is waiting to get the list from you.
If too much time goes by and you still want to hit your arrival goal, you'll need to switch to first class mailing—and, wow, can that add costs! First class is around 30% more expensive than standard postage.
The other way mailing lists can create snags is when they don't match your order. Your printer followed the specs, but your mailing list is 500 short.
That means another unscheduled print run will be necessary.
Or the opposite can occur: Your list turns out to have fewer recipients than expected and therefore doesn't match your order. But now your printer has product on the floor that they can't return.
Who's going to pay for it?
To Err Is Human But . . .
The above scenarios exemplify how your printing costs can go up when you don't have a good planning process in place.
Of course mistakes, unexpected delays, and last-minute surprises are going to happen now and then no matter what. And, hey, as a printer, we know we're not beyond making errors ourselves.
But the point here is to underscore how much more likely things can go wrong—and costs can go up—when a printing project becomes a race rather than a well-executed plan.

Still More Ways to Save . . .
Beyond getting more organized, consider these additional strategies for keeping your printing costs down.
Take advantage of digital printing
Mailing services and digital printing support can ultimately save you money by cutting down on in-house envelope stuffing and other time-consuming tasks.
Be more selective and strategic
You can spend smarter by taking a more selective distribution strategy. For example, maybe your big donors get the full-color annual report, while others get a postcard that directs them to the online version.
Choose products that save you money
Reconsider the materials you're sending. Do you really need to use that expensive paper? Can you simplify things?
For example, innovatively designed items like self-mailer brochures can be an all-in-one solution that lets you combine a brochure and a return envelope into a single mailable piece.

Likewise, donation envelopes can be a smart—and relatively inexpensive—option. Consider using them in all of your mailings. That way recipients always have an easy method to send you money.
Clean up that mailing list
How long has it been since you thoroughly reviewed your current mailing list? And how closely are you looking at your target demographics?
By measuring the results of your mailing campaigns, you may be able to shorten your recipient list. You'll save money with smaller orders that are more targeted.
Look to Your Printer for Service and Insight
Printing is a competitive industry. Your local printer is likely in business because they're good at what they do and they've gained a lot of insight along the way. Why not tap into it?
Open up a dialogue with your printer on strategies for reducing your printing costs.
It's a safe bet to assume they want your nonprofit to be successful as much as anyone. And they know that in the long run, providing great customer service and helping you find ways to save on printing costs is a win-win.